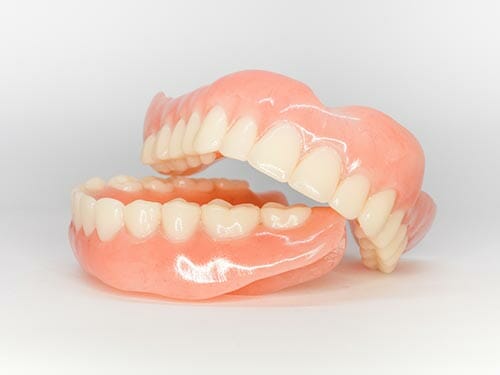 Dentures and partial dentures can turn your smile from something to hide into something to be filled with pride about. Removable and realistic-looking, dentures replace teeth and the surrounding tissues, filling in unsightly empty space while inhibiting the surrounding teeth from drifting or shifting, which could lead to a whole new set of dental problems. A brand new smile that lasts a long time is possible, thanks to the "wow factor" work of Dr. Bowen and team, paired with the latest in dental appliances.
The benefits of dentures:
-Replace all or several teeth
-Reinforce facial features
-Elevate your smile
-Correct speech
-Promote better ability to chew
What's the difference between a denture and a partial denture?
When all the teeth are missing, we'll use a denture, known as a complete denture. If some natural teeth are in good health, a partial denture will be used to fill in the spaces where there are teeth missing.
If I need a complete denture, how long will I go without teeth while the denture is crafted?
Dr. Bowen offers her patients the option to have either a conventional or immediate denture made. If we opt for the conventional, it won't be made until the gum tissue has healed which can take up to 6 weeks. Since the gums must heal, you'll be without teeth until it's time to place the dentures. As for the immediate option, in this case, the denture is made ahead of time and as soon as the teeth are removed, it is put in place. The gums will still require time to heal, so we may need to adjust this type of denture to fit more perfectly upon complete healing of the tissues.
What is the process like?
You'll have to visit the office on several occasions throughout the process. First, we'll make molds and take measurements to ensure a customized fit. You may need to come back for additional appointments until the shape, color, and fit are all as close to perfect as possible. Once it's time for that final visit, the dentures will be adjusted and placed in your mouth.
Will I be able to resume eating, speaking, etc. immediately once my dentures are in?
You will, but you may need a little time to get used to your new dentures. Perhaps you'll notice an increase in saliva, tenderness or soreness, and difficulty eating or speaking. This will get better as you grow accustomed to your new dazzling dental appliance.
We're known for outstanding results.