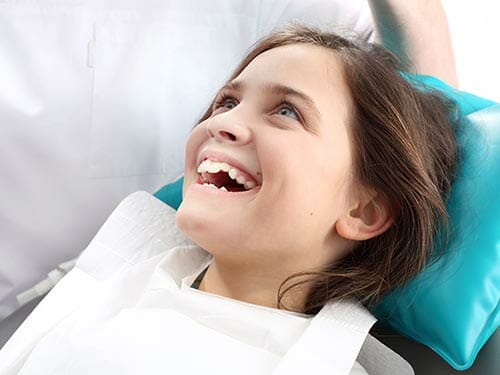 Dr. Bowen and the team are fully educated in treating patients from birth through adolescence with dental care catered to the specifics involved for this age range. In fact, special training is required in order to practice pediatric dentistry. These 2-3 years of intense and specialized training is imperative to ensure the proper care of the most tender of patients. Psychology is involved to create an environment where the child never feels threatened while in our care. A positive experience means future visits will be free of anxiety and care will continue for years to come, well into adulthood.
What happens at a pediatric dental appointment?
Education is at the core of every appointment. Using models, computers, and kid-friendly talk, we walk the child through every step so they're not caught off guard and always know what to expect. We will also discuss good oral hygiene care, healthy eating habits, and disease prevention with their parents.
We will keep close tabs on the child's oral development, remaining proactive in their care to block problems before they arise. If needed, depending on the child's age, we may discuss corrective treatment for teeth, something to give a boost to their self-esteem.
There will be a thorough cleaning including polishing, sealant application, topical fluoride treatment, etc. for the prevention of decay. A brushing/flossing demo is helpful for teaching young children to do this properly at home, and we advise parents about the effects of pacifier use and thumb sucking as well as the dangers of smoking.
Early oral treatments may be in order to correct a misaligned bite, grinding of teeth, or oral injury. If a night guard or space maintainers are recommended, we will discuss options.
We're known for outstanding results.