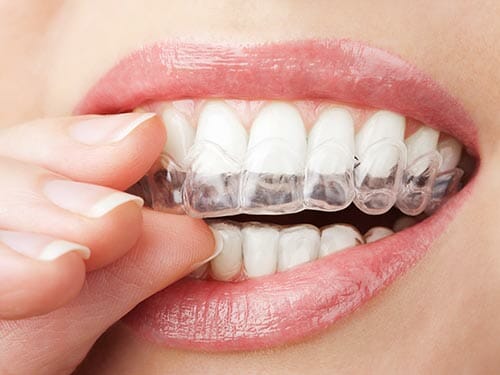 When traditional metal braces don't suit your lifestyle (or style in general), Invisalign clear aligners are an effective solution Dr. Bowen offers to get straighter teeth and to fix other tooth issues normally adjusted with braces. They are suitable for mature teens and adults.
How long will I need to wear Invisalign?
Treatment times vary, however on average, most patients see results in about one year.
What are Invisalign aligners used for?
-Crowding – teeth don't fit normally in the jaw causing overlapping, teeth aligners will move the teeth to create better spacing
-Gaps – genetic or caused by shifting due to missing teeth
-Malocclusions – overbite, underbite, crossbite (upper and lower arches are misaligned), and open bite (upper and lower teeth don't meet)
-Crooked Teeth – as with most orthodontic treatments, a benefit is to straighten teeth. 
Benefits of Invisalign
-Oral Health – Having straight teeth will prevent crowding and possible pain
-Confidence – An orthodontic treatment plan can give you the confidence to smile and laugh without the concern of crooked teeth.
How will the process go?
Your dental experts at Dr. Bowen's office will take an impression of your teeth and bite and send it to the Invisalign laboratory. Invisalign will send back a "before and after" expectation image of how your teeth will improve after using their product. Then the aligner trays are created and sent to us within a two-week time frame. You'll be required to wear your Invisalign clear aligners for 22 hours per day, removing them only for eating and cleaning. 
Will they cause discoloration?
Unlike traditional braces with brackets, Invisalign won't cause discoloration. You can even whiten your teeth while wearing them.
We're known for outstanding results.